Welcome to our Church
We extend a special welcome to those who are single, married, divorced, gay, filthy rich, dirt poor, yo no hablo Ingles. We extend a special welcome to those who are crying newborns, skinny as a rail or could afford to lose a few pounds.
We welcome you if you can sing like Andrea Bocelli or can't carry a note in bucket. You're welcome here if you're "just browsing," just woke up, or just got out of jail. We don't care if you're more Presbyterian than John Calvin or haven't been in a church since little Joey's baptism or Sally's wedding after
which everybody, including
poor Sally, got drunk.
We extend a special welcome to those who are over 60 but not grown up yet, and to teenagers who are growing up way, way too fast. We welcome soccer moms, NASCAR dads, starving artists, retired farmers, hedge-fund managers, tree-huggers, latte-sippers, vegetarians, computer nerds, and junk-food eaters. We welcome those who are in recovery or still addicted- some of us have also been there. We welcome you if you're having problems these days or have had "issues" your whole life long. We welcome you if you're down in the dumps or if you don't like "organized religion"- we've been there too. We welcome you if you're "spiritual but not religious," and if you are curious whether it is possible to be both at once.
If you blew your offering money in a football pool or on online betting, you're welcome here. We offer a special welcome to those who think the earth is flat or was created, literally, in seven days. We welcome you if you work too hard or don't work at all. We welcome you if you have a PhD, but are working now at Trader Joes, or if you can't spell and the job you do have is killing you. We welcome you if you're here today only because grandma is in town and wanted to go to church and you just didn't want to disappoint her.
We welcome those who are inked, pierced or both. We offer a special welcome to those who could use a prayer right now, maybe especially because they had religion shoved down their throats as kids or by someone they worked for after they grew up. We welcome you if you wound up here by mistake thinking that this was the Catholic church (it's around the corner on Clay Pitts, but since you're here already, you might as well stay for our service- we welcome Catholics too and, of course, people of all faith traditions).
We welcome tourists, seekers, doubters, and everybody on the edge of faith, which includes, well, pretty much all of us. Bottom line: we welcome you. And we welcome you because we know that no matter who you are, Jesus welcomes you. Oh, and also because we know that when we receive the welcome that Jesus offers, everything begins to change for the better and keeps changing so long as we do (and as long as we do the right thing and welcome others in his name too).

NOTE: This welcome message was adapted from one used by Our Lady of Lourdes Catholic Community Church in Daytona Beach, FL, and was adopted as the Official Welcome Message of the First Presbyterian Church of Greenlawn, as approved by the Session on February 19th, 2013
CHURCH OFFICE HOURS
Monday through Friday
9:30AM to 2:00PM
PASTOR OFFICE HOURS
New Hours to be determined, one
day during the week and Sunday.
CONTACT INFORMATION
The Reverend Dr. Ann VanCleef, Pastor
Address: 497 Pulaski Road
Greenlawn, New York 11740
Telephone: (631) 261-2150
Fax: (631) 261-0348
email: fpcgoffice@gmail.com
fpcgpastor@gmail.com
View our facebook page click below
http://www.facebook.com/First-Presbyterian-Church-of-Greenlawn-424480820932852
WHO WE ARE
Our Church is a Christ-centered,
Bible-based congregation with an active membership of approximately 150.
We are located at 497 Pulaski Road in Greenlawn, New York. Greenlawn is a hamlet within the Town of Huntington on the beautiful north shore of Long Island about
35 miles east of New York City.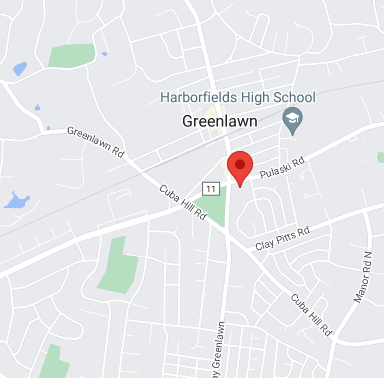 View Larger Map
Sunday Service of Worship
is at 10:30am

___________________________
Welcome One and All!
Celebrating 150 years!

The Members of
The First Presbyterian Church of Greenlawn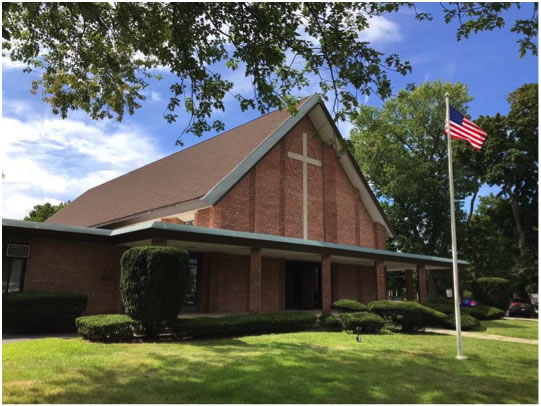 Are pleased to announce that we have
Sunday Worship Services in
our beautiful Sanctuary.

No matter who you are or where you are on
the Journey of Life,
you will find a warm welcome at First Presbyterian.

ZOOM Worship will continue for those
who need it.
See Events Page for details.
___________________________
OUR SUNDAY SCHEDULE
Sunday Church Service is at 10:30am
At 10:45am, after a Children's message,
children are dismissed to Sunday School.
Sunday Adult Bible Study is at 11:45am
(or directly after Sunday Services)

The Sunday morning service could be best described as upbeat traditional in style, with the addition of a Children's Message and some contemporary praise songs. The goal of every service is to bring each person into a closer personal relationship with our
Lord Jesus Christ. The preaching is biblical, personal and Christ-centered. In addition to the Sunday service, we have:
an adult Bible Study following Sunday Services

a Youth Director building and encouraging our youth ministry through activities and retreats

a 10:30am Friday morning Prayer Meeting and Bible Study

two Presbyterian Women's Circles which meet monthly

Wednesday evening Lenten Soup Suppers open to the community

an active Computer and Phone Prayer & Praise Ministry who pray for personal concerns of God's people

many community minded outreach programs where you can be of service and where you can be a blessing to others while demonstrating God's love to you
.
VIEW THE NEW "CONNECT TO THE
CHURCH" VIDEO:
http://youtu.be/idU2awcYNfo
.